Jump to recipe
This recipe is a healthier version of banana bread that is made with coconut oil, brown sugar, and Einkorn whole wheat flour.
In my Sourdough 101 post last week, I introduced you to Einkorn flour. It's an ancient grain that has not been hybridized and is more easily digested. In this recipe, I used Jovial Organic Einkorn Whole Wheat Flour.
The recipe is a variation of a banana bread recipe that is in Einkorn: The Cookbook by Carla Bartolucci. I added cinnamon and chopped pecans to the batter and skipped the glaze to further reduce the sugar.
This banana bread is a favorite of mine. I love the chunks of nuts and that it isn't overly sweet. It's wonderful for breakfast or as a dessert. I hope you enjoy it as much as I do.
The full recipe in printable form can be found at the bottom of this post.
Caramelize bananas in skillet with brown sugar and coconut oil.
Fold together banana mixture and flour with a spatula.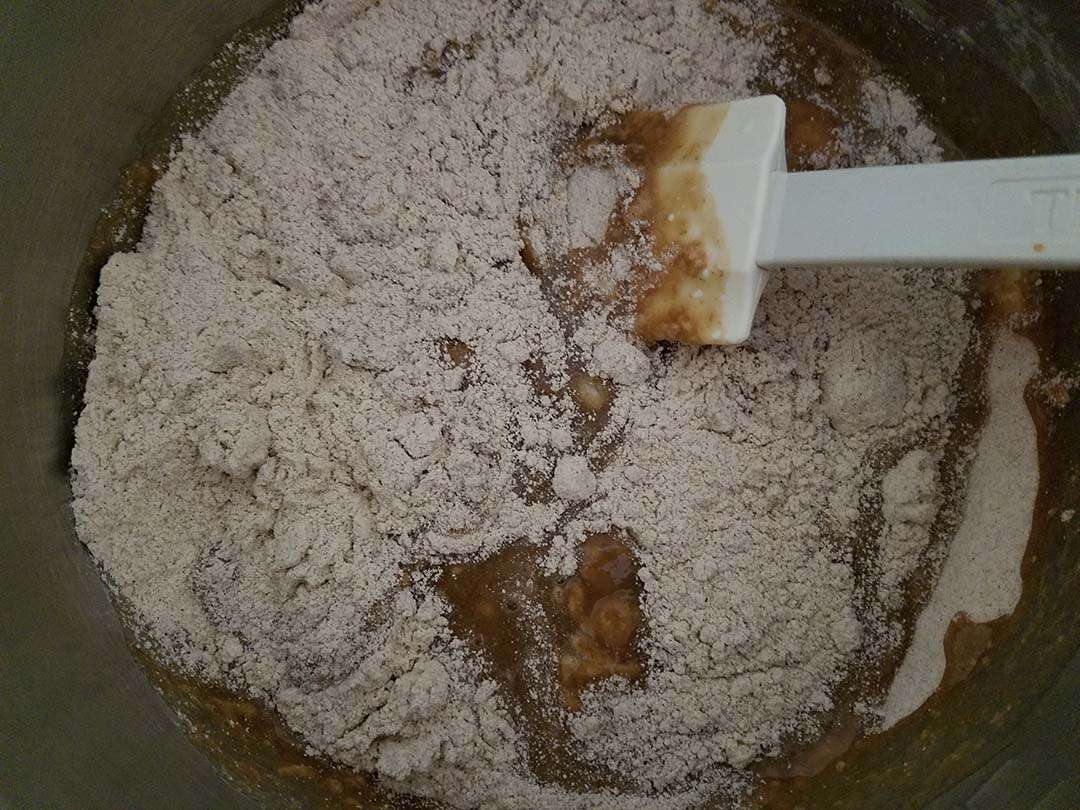 Pour batter into bread pan and smooth out the top.
Finish cooling banana bread on a rack.
Banana Bread with Einkorn Flour
Ingredients
2 ½ cups (240 g) Einkorn whole wheat flour
1 teaspoon baking soda
½ teaspoon fine sea salt
1 teaspoon cinnamon
5 tablespoons (65 g) extra-virgin coconut oil (plus more for greasing pan)
3 very ripe bananas
½ cup (105 g) dark brown sugar (packed)
3 large eggs
1 ½ cups chopped pecans (walnuts would also be good)
Instructions
Preheat oven to 350° F. Grease 5 x 9 inch loaf pan with coconut oil.
In skillet, melt coconut oil. Add bananas and brown sugar. Stir occasionally. Simmer on medium low heat for 5 minutes until bananas have softened and sugar begins to caramelize. Remove from heat and cool for 10 minutes.
While bananas are cooling, stir together flour, baking soda, salt, and cinnamon in large bowl.
Process bananas and eggs together in blender or food processor.
Fold banana mixture into flour mixture till just combined. Gently stir in nuts. Pour batter into pan.
Bake for 42 minutes until inserted toothpick comes out clean. Cool bread in pan for 10 minutes. Remove bread from pan and finish cooling on rack.