I mentioned in a previous post that I'm in a wine tasting group known as the Vino Amores. A few days before our last gathering, I shopped at Costco and bought a container of raspberries. As those of you who shop at Costco know, you get a LOT of whatever it is you're buying. So, I decided to make a chocolate cake with raspberries for wine tasting. I discovered this recipe in one of my vegan cookbooks, Chloe's Vegan Italian Kitchen, by Chloe Coscarelli. Leftover Red Wine Chocolate Cake with Drunken Raspberries is utterly decadent and was a hit with my wine lover friends.
The star ingredient of the red wine chocolate cake and the drunken raspberry topping was the Turley Cabernet Sauvignon.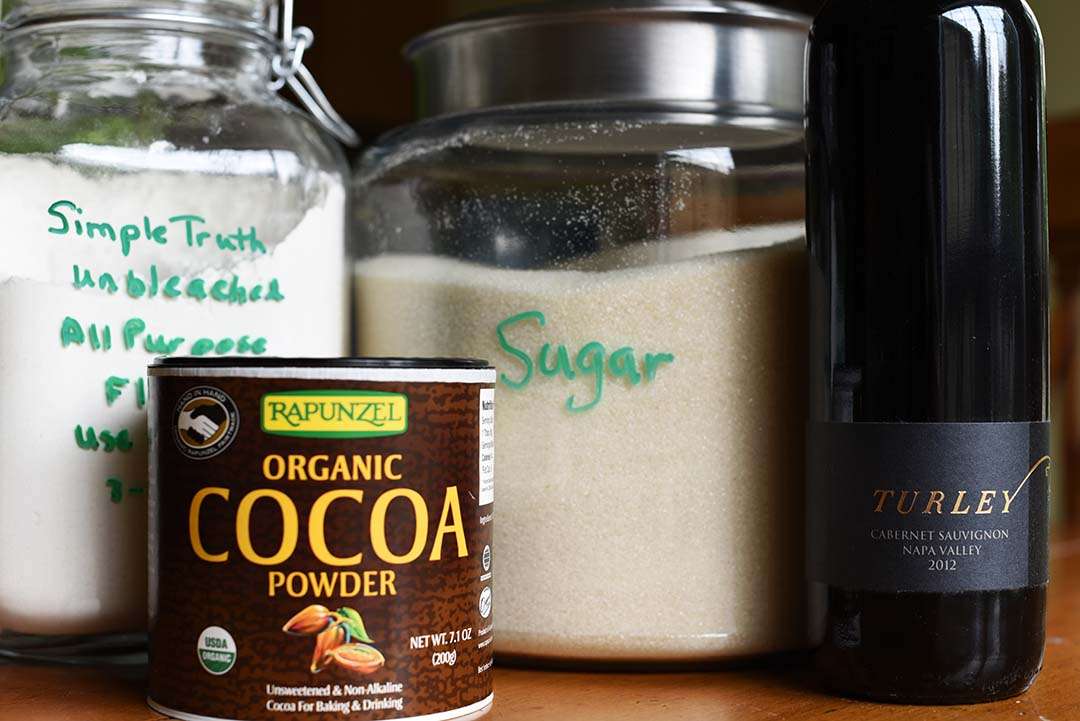 For the cake, whisk all of the dry ingredients together in one bowl.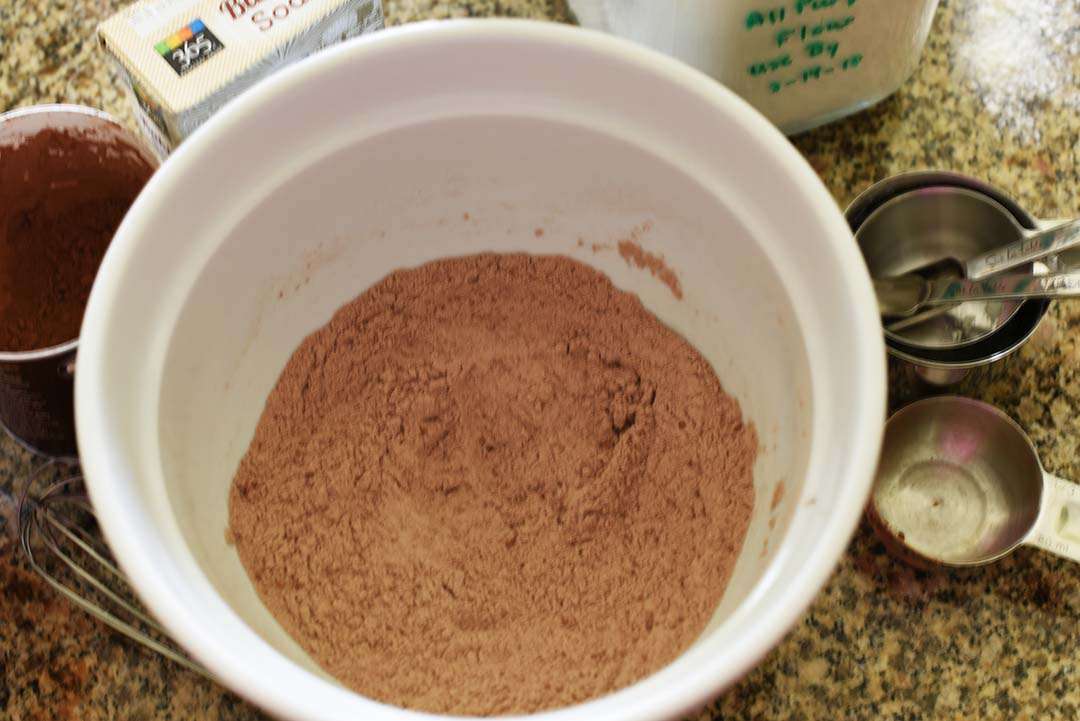 And whisk the wet ingredients together in another bowl.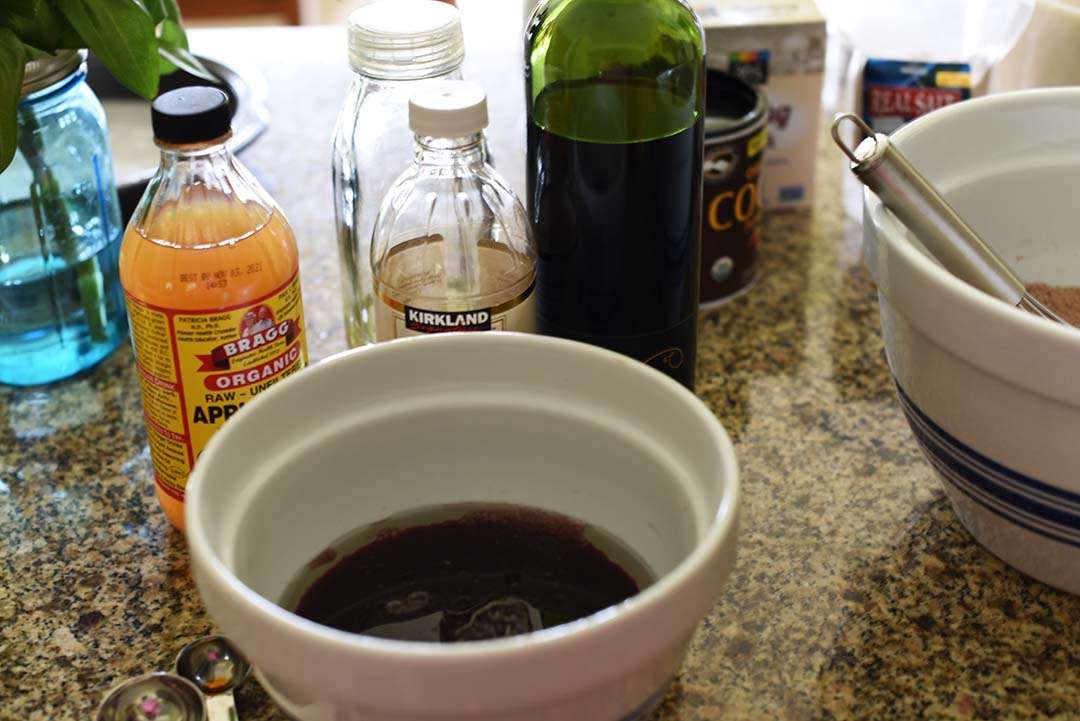 Then add the wet mixture to the dry mixture and whisk until just combined.
Pour the batter into a cake pan and bake.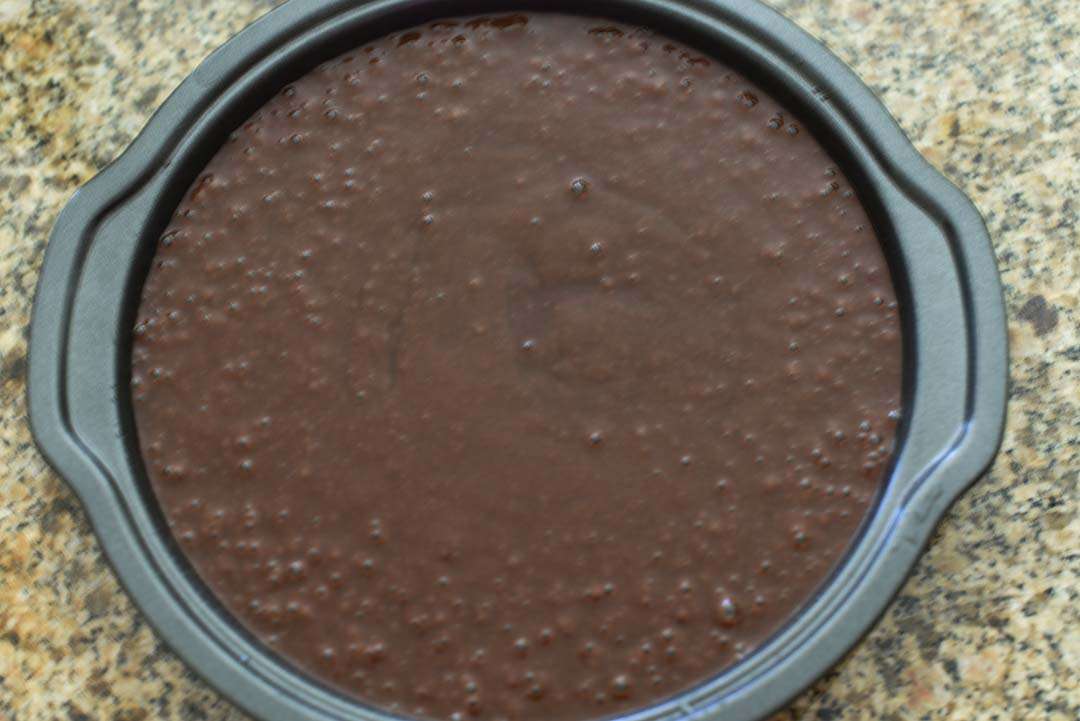 While the cake is baking, prepare the drunken raspberry topping.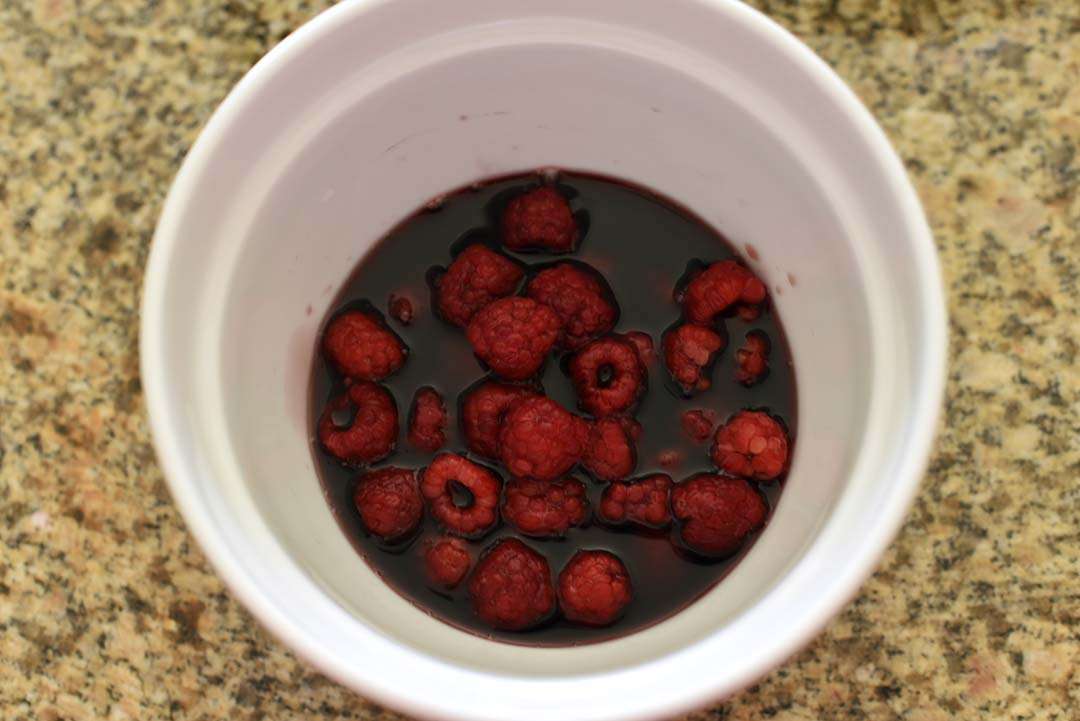 After removing the cake from the oven, cool the cake completely.
Remove the cake from the cake pan and place it on a serving plate. I had a few extra raspberries that I put around the cake for decoration and added flavor.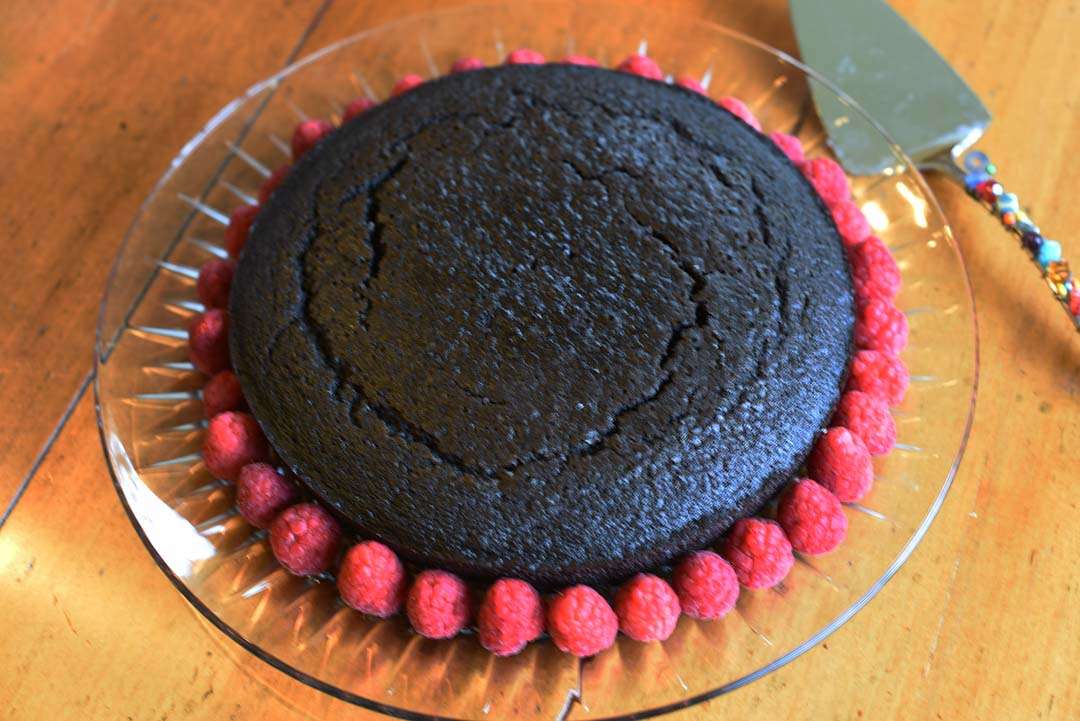 Cut yourself a piece of cake.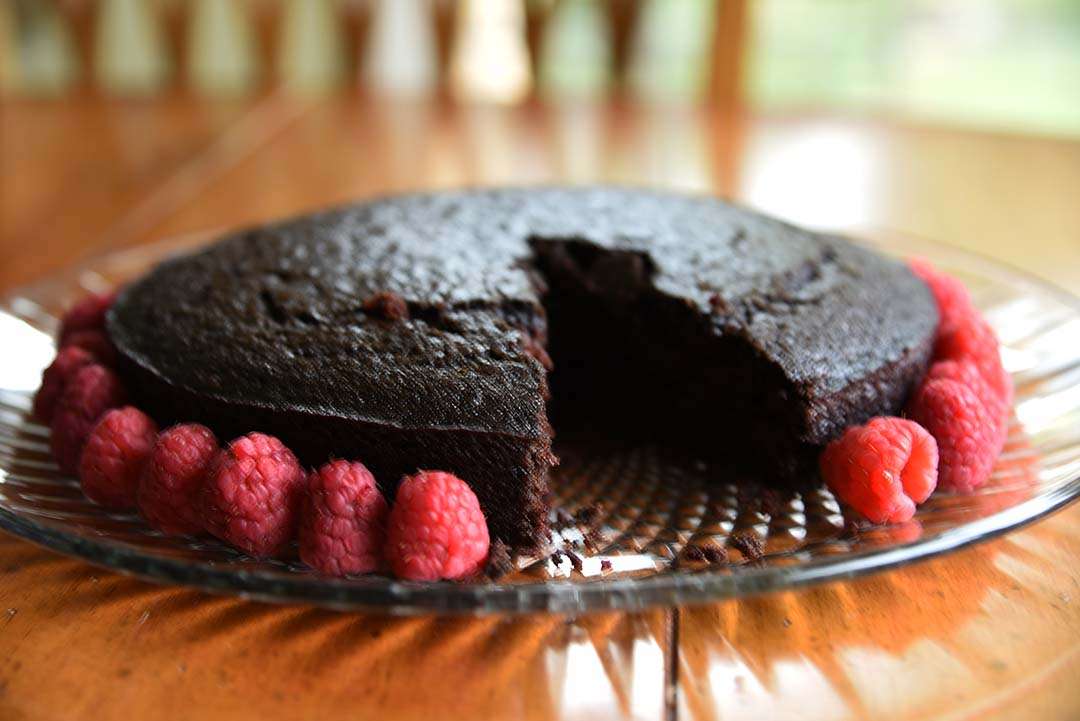 Spoon the raspberry topping over the cake and Enjoy!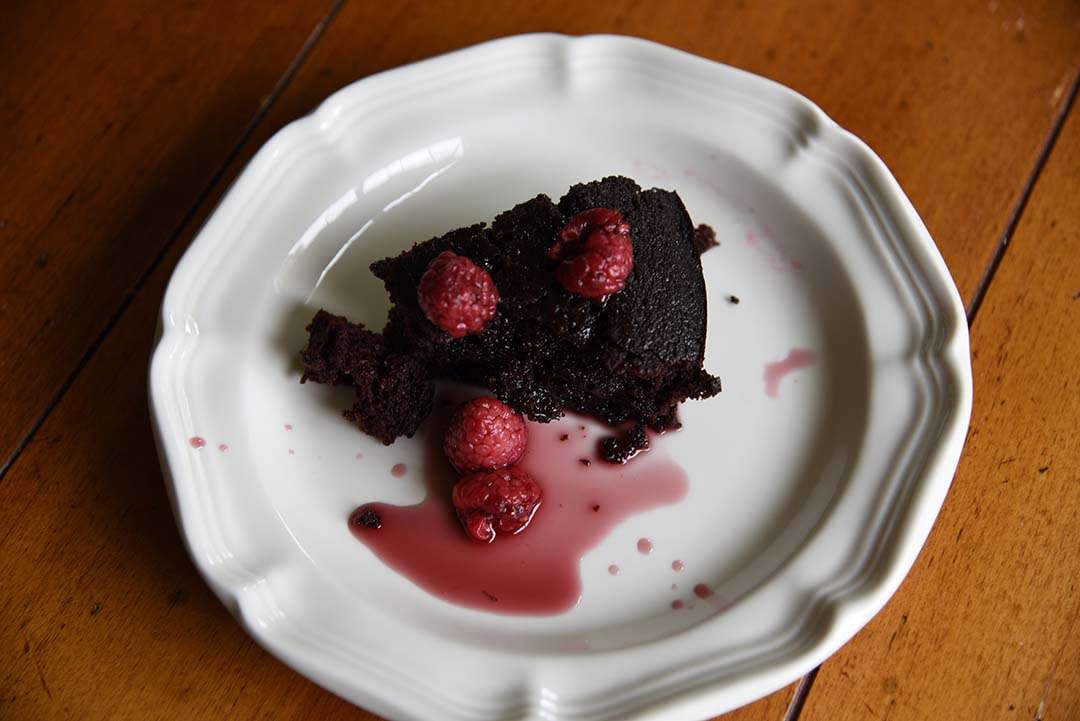 My wine lover friends loved the chocolate cake with raspberries for wine tasting. It is easy to bake and makes a wonderful dessert. I hope you enjoy it, also.
Ingredients
For the Cake:

1½ cups all-purpose flour
1 cup sugar
⅓ cup unsweetened cocoa powder
1 tsp baking soda
½ tsp salt
¾ cup dry red wine
½ cup water
½ cup canola oil
2 tbs white or apple cider vinegar
1 tsp pure vanilla extract
For the Topping:

½ cup dry red wine
½ cup sugar
1 small container raspberries (6 ounces)
Instructions
For the Cake:

Preheat oven to 350°F.
Lightly grease a 9-inch round cake pan and line the bottom with parchment paper.
In a large bowl, whisk four, sugar, cocoa, baking soda, and salt.
In a separate bowl, whisk wine, water, oil, vinegar, and vanilla.
Pour the wet mixture into the dry mixture and whisk until just combined. Do not overmix.
Fill the prepared cake pan with batter.
Bake for 28 to 30 minutes, or until a toothpick inserted into the center of the cake comes out dry with a few crumbs clinging to it. Be sure to rotate the cake halfway through the baking time.
Let the cake cool completely.
For the Topping:

In a small saucepan, combine wine and sugar and cook over medium heat until sugar dissolves and mixture begins to boil.
Let boil for 1 to 2 minutes and remove from heat.
Place raspberries in a bowl and pour the wine mixture over the raspberries.
Refrigerate and let soak for at least 30 minutes and up to 2 days.
To Serve:

Slice cake and top with a spoonful of wine-soaked raspberries.
https://backporchbanter.com/chocolate-cake-with-raspberries-for-wine-tasting/
Recipe: Copyright © 2014 by Chloe Coscarelli from CHLOE'S VEGAN ITALIAN KITCHEN published by Atria Books, a division of Simon and Schuster, Inc.