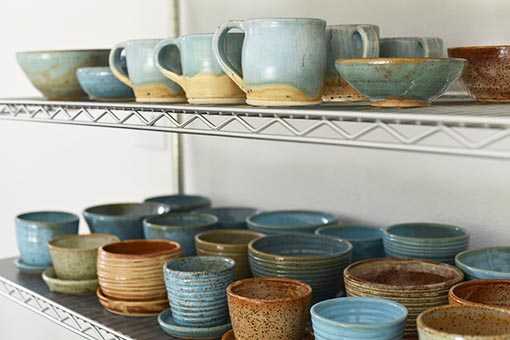 A number of years ago, I took my first pottery class at a community art studio and played around with hand building for a year or so. Eventually, life got in the way, and I stopped making pots. Then a few years later, I made my way back to the studio and took a wheel class. There was something calming and mindful about throwing on the wheel, and I've been committed to it ever since. I was making more pottery than I could use or give away, so I eventually decided to sell my pots, and Pottery by Tracy was founded.
I bought a used kiln and a new wheel. The kiln was installed in the garage, and the wheel was out on my backporch. I made pots in all kinds of weather, and quickly realized that I wanted a studio where I could have heating and air conditioning and didn't have to carry pots and supplies through the house from the garage to the backporch and back every time I made pots. So, I began the process of having a studio built in my backyard. It took a little longer that I anticipated, but my beautiful pottery studio was finally ready to move into. That's the story of pottery, my studio, and me.
I create functional pottery that can be used every day whether it's for drinking coffee from a mug, planting ivy in a planter, or rinsing blueberries in a berry bowl. My favorite glaze colors spring from nature and are in various hues of green, blue, and brown. I add texture to many of my pieces by trimming ribbons from their sides. I call these pots 'ribbon' bowls. Some of my pots are made with speckled clay that peeks through the glaze and others are glazed with a special technique called 'bubble' glazing.
Soon, I will have samples of my pottery presented here that can become a part of your home. Please keep in touch, and I'll let you know when the shop is open.
Pottery Shop Coming Soon!