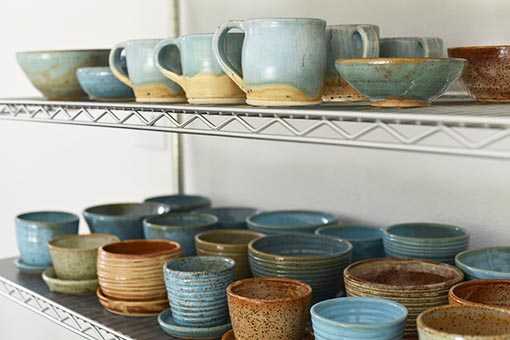 I create functional pottery for every day use whether it's a berry bowl to rinse blueberries in, a mug to drink coffee from, or a planter to plant ivy in. Each piece is handmade and truly one of a kind.
Most of my pots are thrown on the wheel, but occasionally, I hand build trinket dishes and ornaments. I use various types of stoneware clay that are fired to cone 5/6 (2167°/2232° F) in an electric kiln.
When trimming my pieces, I sometimes trim ribbons of clay from the sides and call these pots 'ribbon' bowls. Some of my pots are made with speckled clay that peeps through the glaze, and others are glazed with a special technique called 'bubble' glazing. My favorite glaze colors spring from nature and are various hues of green, blue, and brown.
I hope you enjoy my handmade pottery. Please keep in touch, and I'll let you know when the shop opens.
Pottery Shop Coming Soon!