My Dad loved to read, and for Father's Day, my sisters and I often gave him books. Over the years, he had gathered quite a collection. He had many books about animals and particularly liked James Herriot's series of books which includes All Creatures Great and Small. The books chronicle the author's experiences as a veterinarian, and Dad often was found reading one of Herriot's adventures to his grandkids.
After he passed away in 2002, my sisters and I inherited many of the books that we had given him over the years. Not only did we inherit his many books, but he also passed down his love of reading to us. His books along with hundreds more crowd the book cases in my study.
Dad also read several daily newspapers. Here he is at my previous home in Texas reading a newspaper and sharing a snack with my first dog, Sammie.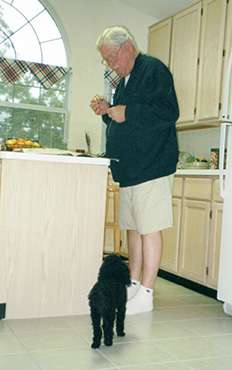 I have many wonderful memories of Dad, but unfortunately, I don't have many pictures of him as digital photography was not common yet. He, also, could be a bit of a humbug when cameras were around. Here's a nice picture of him and Mom.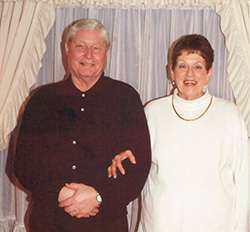 Cheers to all of you guys with kids and fur kids in your lives. We hope you have a Happy Father's Day!