Jump to recipe
I always buy more bananas than Izzie and I can eat. So I made banana bread again. This banana bread doesn't have any refined sugar. Its mild sweetness is drawn from the maple syrup along with the bananas. Oat flour made from rolled oats and walnuts make this Maple Oat Banana Walnut Bread a heart healthy breakfast, snack, or dessert.
Because oats are high in soluble fiber, they're a good food to use for lowering LDL "bad" cholesterol. Walnuts, also, lower LDL cholesterol and improve blood vessel function. Bananas are high in potassium which is key to brain health. And, cinnamon lowers blood sugar. Sprinkle a little cinnamon into your morning coffee for added benefit.
I possess an expansive collection of vegan cookbooks, and one of my favorites is Thug Kitchen. The authors of the cookbook hope to inspire people to eat vegetables and adopt a healthier lifestyle. Beware though, you may not want your younger kids reading the cookbook as spicy language is scattered throughout. However, the recipes are delicious and for the most part easy to prepare.
My Maple Oat Banana Walnut Bread is based on a recipe, Maple-Oat Banana Bread, from Thug Kitchen. I made a few changes to their recipe and upped the amount of cinnamon and a few other ingredients. I also added walnuts as I like nuts in banana bread.
The ingredients include maple syrup, oat flour, walnuts, and ripe bananas.
Since I didn't have oat flour, I ground rolled oats into oat flour in my Vitamix. The recipe calls for 2 cups of oat flour, so I measured 2 heaping cups of rolled oats into the Vitamix. If you don't have a high speed blender, use a food processor or buy the oat flour already ground. Be sure that the oat flour measures to 2 cups.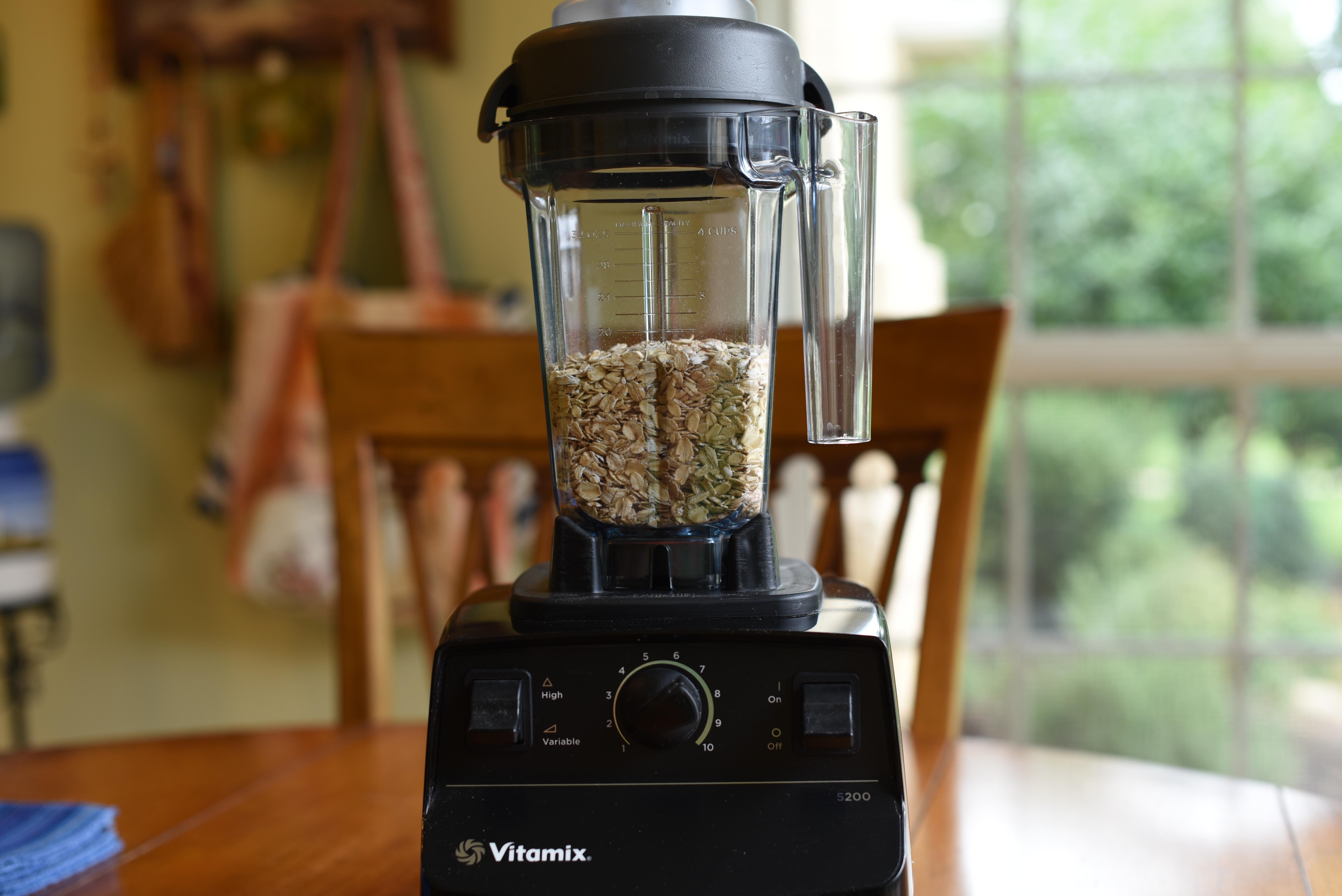 Mix the dry ingredients together.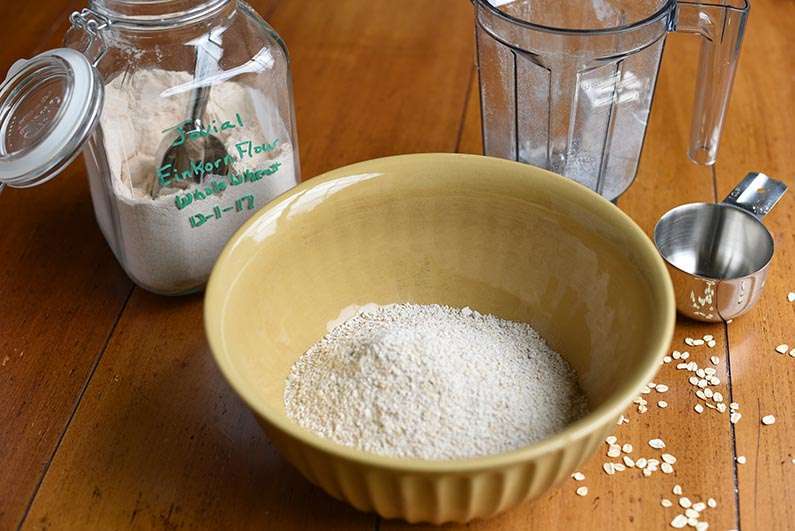 Mix the wet ingredients together.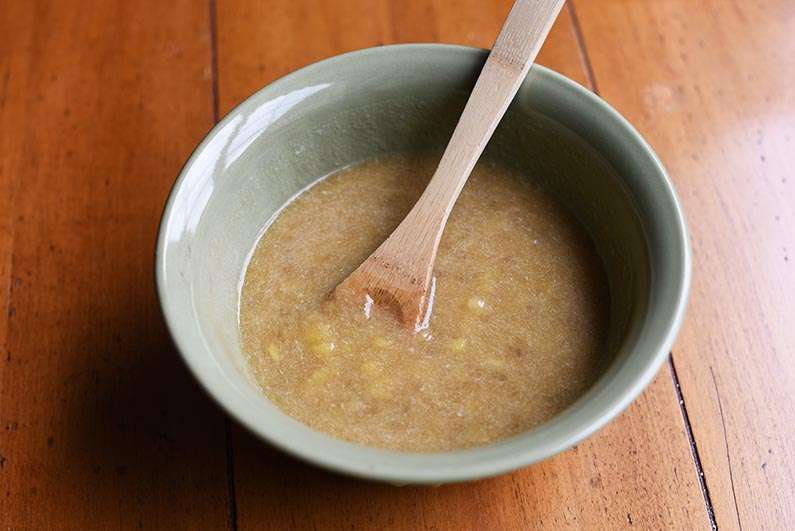 Stir the wet and dry ingredients together until just combined. Do not over mix. Fold in the walnuts.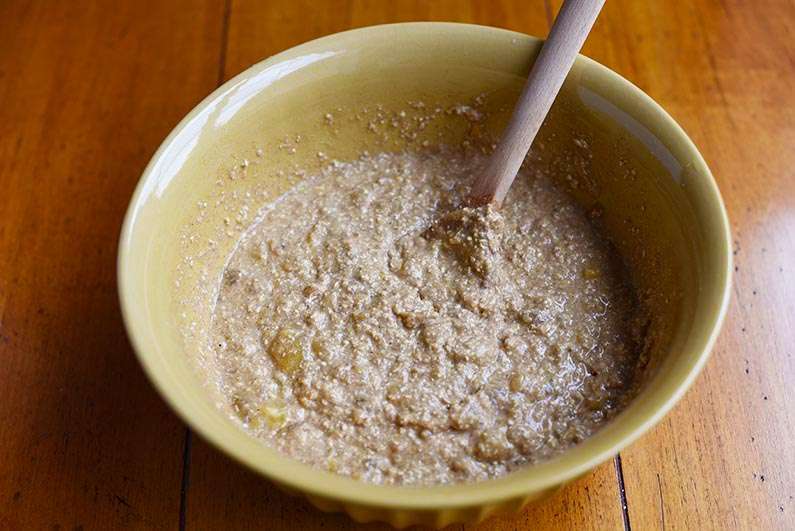 Bake for approximately 40 minutes or until a toothpick comes out clean. Remove from the bread pan and cool completely.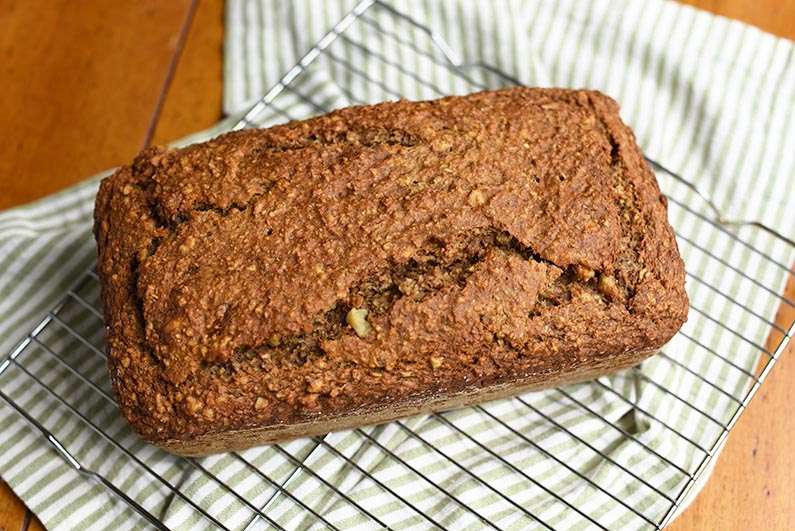 Slice yourself a piece to nibble on.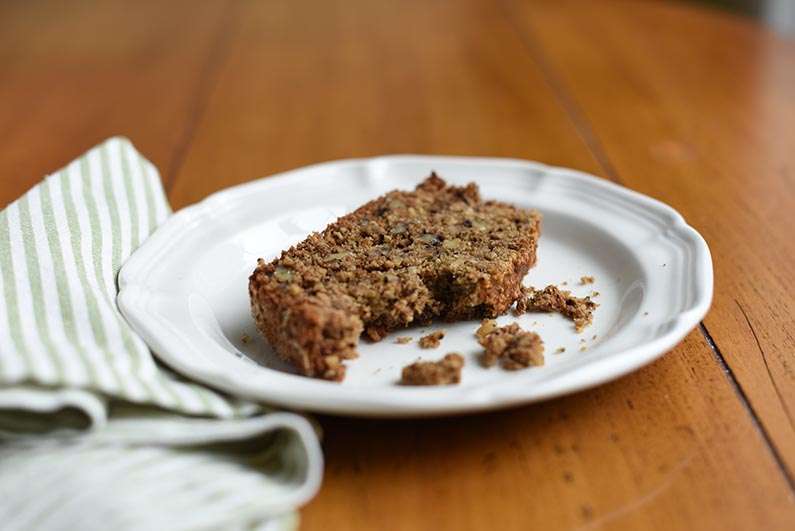 This Maple Oat Banana Walnut Bread is filled with fiber and heart healthy ingredients. Enjoy it for breakfast, a mid-afternoon snack, and even dessert.
Maple Oat Banana Walnut Bread
Ingredients
2 cups oat flour (can be ground in a blender or food processor from rolled oats)
1 cup whole wheat flour ( I used Einkorn whole wheat flour)
1 ¾ tsp baking soda
1 tsp cinnamon
½ tsp salt
¾ cup chopped walnuts
⅓ cup almond or any other non-dairy milk
1 tsp white or apple cider vinegar
2 cups mashed bananas (about 4)
⅓ cup maple syrup
3 tbs olive oil
1 tsp vanilla extract
Instructions
Preheat oven to 350° F. Grease and flour a 9-inch bread pan.
In a large bowl, stir together oat & wheat flours, baking soda, cinnamon, and salt.
In a separate bowl, stir together mashed banana, maple syrup, olive oil, and vanilla.
In a small bowl, mix together milk and vinegar. Add to other wet ingredients and mix together.
Mix wet and dry ingredients together until just combined. Don't over mix.
Fold in nuts.
Pour into bread pan and bake for approximately 40 minutes or until a toothpick comes out clean.
Remove from bread pan and cool on rack.